Vacuum 66th Clemson Forum Reymond
Vacuum Part 2 66th Clemson Forum Reymond
Meridian Brick Henderson USA Robotic Setting Machine
Meridian Gleason Shallow Pit Transfer Car
Die Lubrication 66th Clemson Forum Reymond
Reymond Extrusion
Castings USA
Reymond Sandblast Machine
Bridge Changeover
30 Degree Angled Blade Frame
Reymond Split Tile Extrusion
Reymond Split Tile Smooth
48% Void Backing Brick - Australia
50% Void Hollow Clay Block - Saudi Arabia
42% Void Direct Set Backing Brick -Australia
Backing Brick, Australia (2)
Backing Brick - Australia
Brick extrusion Reymond lube manifold
Clay Mission Roof Tile Die extrusion
Brick extrusion Reymond die Australia
Reymond die extruding lug pavers in South Africa
Reymond Die High void clay brick
Reymond Products 65mm Clay Paver Die
Reymond Products 65mm Clay Paver Die
Die Balancing
Here you will learn how to balance die liners in the field.  You will see exactly what causes imperfections in product when leaving the die, and details on how to fix it.
PDF Downloads:

Reymond Products Die Balancing.pdf

Die Classes
Reymond Products is the leader in Brick Extrusion Dies, here you will learn the fundamentals of dies in the brick industry.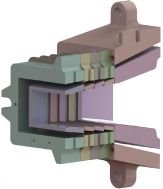 PDF Downloads:

Reymond Products Die Classes.pdf